Best Religious Movies on Hulu
For those seeking thought-provoking and spiritually uplifting content, Hulu offers a diverse collection of religious movies that delve into the depths of faith, belief, and the human experience.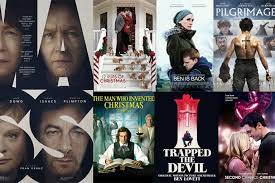 In this article, we will explore the realm of religious movies on Hulu, highlighting some of the best movies that explore religious themes, showcase inspiring stories of faith, and provide a window into different religious traditions. 
Whether you're seeking enlightenment, seeking solace, or simply looking for compelling narratives, these religious movies on Hulu will take you on a profound cinematic journey.
Unveiling Timeless Tales: Classic Religious Movies : 
Hulu presents a selection of classic religious movies that have touched the hearts and minds of audiences across generations. Dive into masterpieces like "The Ten Commandments" and "Ben-Hur," which bring biblical stories to life with epic scope and grandeur. These timeless films not only offer visual spectacles but also explore themes of faith, redemption, and the human struggle with moral choices. Engage with stories that have shaped religious consciousness and left an indelible mark on cinematic history.
Spiritual Quest and Personal Awakening:
Religious movies on Hulu also encompass stories of personal journeys, spiritual quests, and profound awakenings. Films like "Life of Pi" and "Eat Pray Love" transport viewers on transformative voyages of self-discovery and enlightenment. These narratives explore the intricate connections between faith, identity, and finding meaning in life's trials and triumphs. With stunning visuals and introspective narratives, these movies inspire viewers to question, explore, and deepen their own spiritual beliefs.
Interfaith Dialogue and Cultural Explorations :
Hulu's collection of religious movies extends beyond a singular faith, embracing interfaith dialogue and cultural exploration. Films like "The Message" and "The Color of Paradise" offer insights into Islamic traditions and shed light on the beauty and complexities of different religious practices. These movies foster a greater understanding and appreciation for diverse belief systems, promoting harmony and unity among different faith communities.
Inspirational True Stories:
Some of the most impactful religious movies are based on true stories, showcasing the resilience of the human spirit in the face of adversity. Hulu presents films like "Hacksaw Ridge" and "The Passion of the Christ," which depict real-life individuals who embody unwavering faith, compassion, and sacrifice. These inspiring narratives remind us of the power of belief and the capacity of individuals to make a profound difference in the world.
Conclusion:
Hulu offers a remarkable selection of religious movies that traverse faith, spirituality, and the universal search for meaning. From classic tales to contemporary journeys, these films provide a platform for introspection, exploration, and appreciation of diverse religious traditions. Whether you seek inspiration, seek to deepen your understanding of different faiths, or simply enjoy thought-provoking storytelling, Hulu's best religious movies offer a captivating and enlightening experience. So, embark on a cinematic pilgrimage, open your heart and mind, and allow these movies to uplift, inspire, and ignite your own spiritual journey.